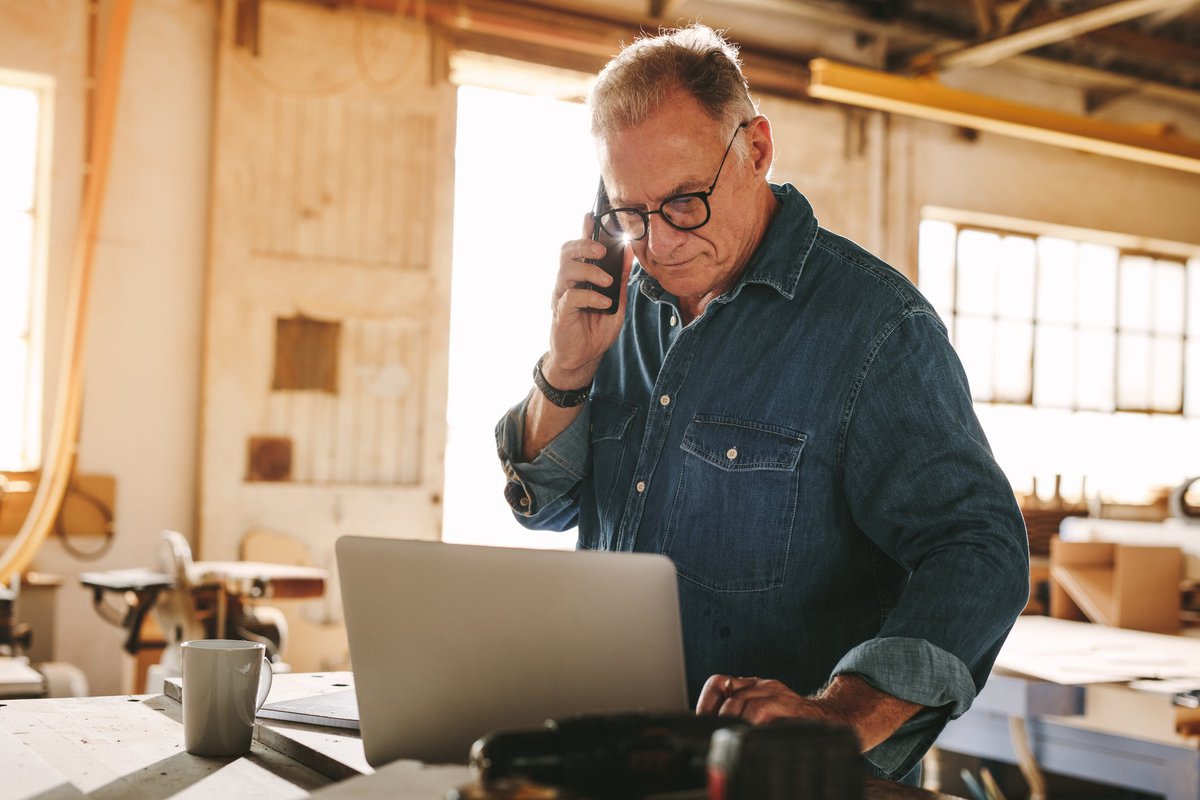 Free downloadable business plan template
Business News Daily put together a simple but high-value business plan template to help you create a business plan. The template is completely customizable and can be used to attract investors, secure board members, and narrow the scope of your company.
Business plans can be overwhelming to new entrepreneurs, but our template makes it easy to provide all of the details required by financial institutions and private investors. The template has eight main sections, with subsections for each topic. For easy navigation, a table of contents is provided with the template. As you customize each section, you'll receive tips on how to correctly write the required details.
Free download: Here is our free business plan template you can use to craft a professional business plan quickly and easily.
Types of business plans
There are two main types of business plans: simple and traditional. Traditional business plans are long, detailed plans that expound on both short-term and long-term objectives. In comparison, a simple business plan focuses on a few key metrics in concise detail so as to quickly share data with investors.
Simple business plan
Business model expert Ash Maurya has developed a simple type of business plan called a lean canvas. The model, which was developed in 2010, is still one of the most popular types of business plans emulated today.
A lean canvas comprises nine sections, with each part of the plan containing high-value information and metrics to attract investors. This lean business plan often consists of a single page of information with the following listed:
Traditional business plan
Traditional plans are lengthy documents, sometimes as long as 30 or 40 pages. A traditional business plan acts as a blueprint of a new business, detailing its progress from the time it launches to several years in the future when the startup is an established business. The following areas are covered in a traditional business plan:
What is a business plan?
Business plans can be written for different audiences, but they're primarily prepared for lenders, investors or shareholders. It's important to tailor your plan to the audience. Investors and shareholders often want to see an exciting potential return and ambitious business goals.
Meanwhile, lenders generally want to know how they'll get repaid and that the business owner is prepared enough to leverage the money effectively. They like to see conservative assumptions about your sales forecasts and market, different scenarios (good, neutral and bad) and contingencies in case things don't go as planned.
"It's common for people to try to convince the lender that this is an amazing opportunity and that they're going to make a lot of money," Fryling says. "That actually can have an adverse effect on the people reading the plan. They might think the business owner is too optimistic and doesn't know what they're getting into."
What's in a business plan?
1. Company profile
A business description
Briefly describe your company, what it does and where it's located. Clarify whether it's a new venture, an expansion of an existing company or an acquisition.
Products and services
Provide a detailed description of your product or service. This should include unique features, how much it costs and how it's delivered.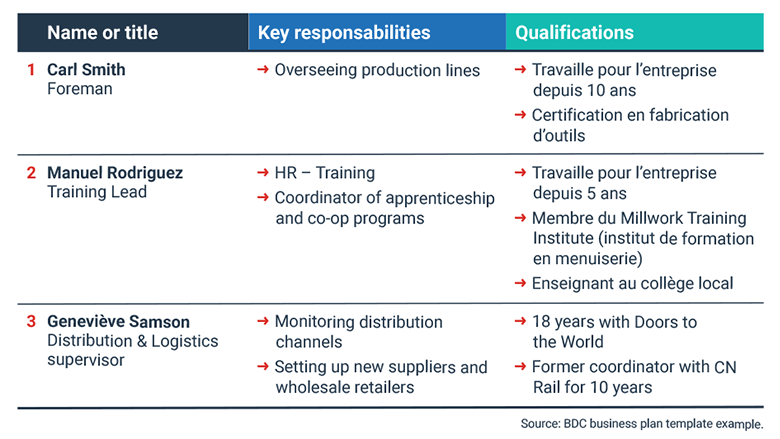 Company history
Explain the development stage of your company or business idea. Include how much time, effort and resources you've invested in the business so far. "You should get really detailed about what you've accomplished to date," Fryling says. "Don't gloss over it. People often don't put in enough hard numbers here."
Mission statement, vision statement and company values.
Legal structure and issues
Give details on your legal structure, why it's the right one for your business and any potential liability issues.
Regulatory and insurance issues
List any needed permits, licences or the like. Also explain any insurance needs, costs and providers.
Your business goals
Briefly list measurable short- and medium-term goals for the business and when you want to achieve them.
A market overview—How the market works, who is serving it, what gap you're filling and key challenges you face. Focus on the local market opportunity, not big-picture stats for the whole industry.
Target market—A detailed description of your customer. Again, be specific.
Executive summary
The executive summary is a very brief, high-level summary of the business plan. It appears in many business plan templates, but Fryling says it's optional. He suggests that companies leave it out unless the target audience specifically requires it. If you do include one, he recommends writing the executive summary last.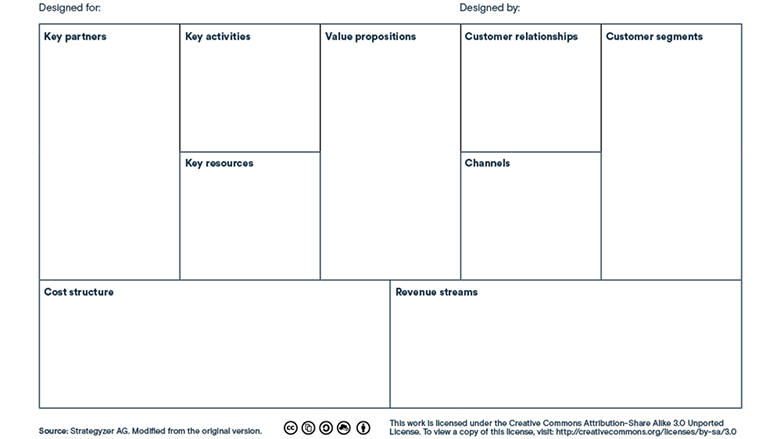 2. Sales and marketing
"It is really important to explain the numbers in this section," Fryling says. "A lot of people think their product is so good it's going to sell itself. That's just not good enough reasoning."
He gives the example of a company that projects 15 sales in April. It has averaged 15 sales a month for the past six months and already has 10 committed orders with a deposit for April. The company also has a record of strong sales in recent years. "That sounds totally conservative and achievable," he says. ". The reader now understands how you've put those sales projection numbers together and hopefully feels that they are a conservative estimate."
3. Operations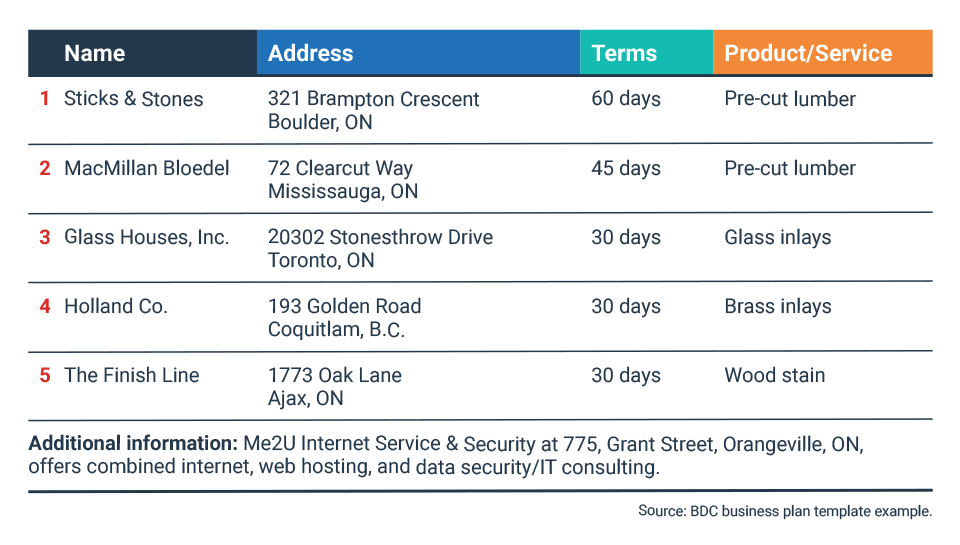 4. Financials
Include a cash flow forecast, usually broken down on a monthly basis and presented as a spreadsheet. Also add your financial statements (balance sheet, income statement, cash flow statement and statement of retained earnings). And if you're a new business, list start-up costs.
The cash flow forecast is especially important. Fryling calls it the heart of the entire plan, but says many companies fail to include it or complete it as an afterthought. "I won't look at somebody's business plan unless they've at least made an attempt at financial projections," Fryling says.
"The real story happens in the financials. In the written part, every section mainly serves to explain and justify those numbers. A big part of the education we do as advisors is getting businesses to do the numbers at the same time as they're writing the plan so they're aligned with each other. It's also not a bad idea to start with the numbers and then complete the written part."
3 common business plan mistakes to avoid
How to write a small business plan
1. Do your research
Go deep in researching your industry and competitors — it can have many benefits. A deep understanding of the industry matters, especially if you need to set up manufacturing and distribution channels.
2. Gather your financial information
Remember, as you start to run and grow a business, money matters. So, you need to find a way to keep track of it all. Accounting software, such as QuickBooks, can help you monitor everything from the expected billable hours you'll have to pay accountants or contractors, such as freelance web designers for your site or writers for your marketing, to invoices and inventory.
3. Follow the outline structure
Most business plans end up being around 7 to 20 pages, depending on the type of business. For something relatively simple, such as a solo consulting firm, you don't need to worry about manufacturing and logistics in your operational plan section, for instance.
4. Write your executive summary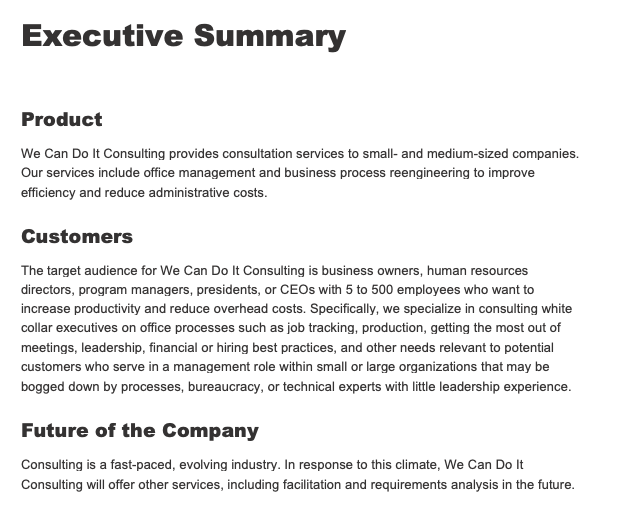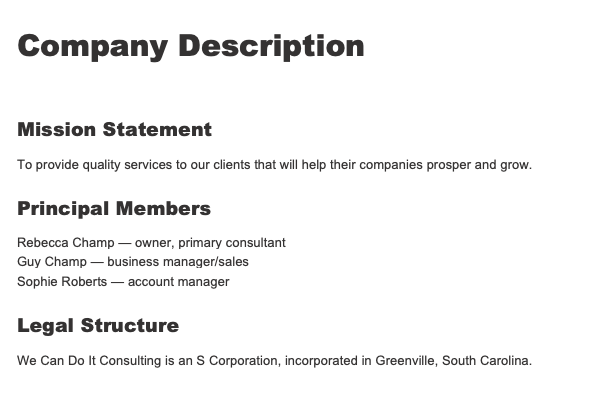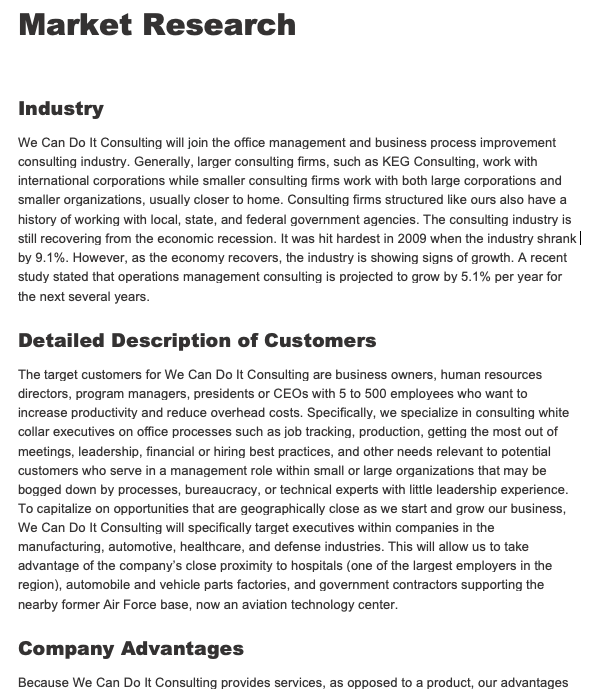 In the market research or market analysis section, the plan details more than you see in the executive summary. You'll find more in-depth descriptions of the industry as a whole and the target market. The plan also outlines its competitive advantages over similar brands in the industry.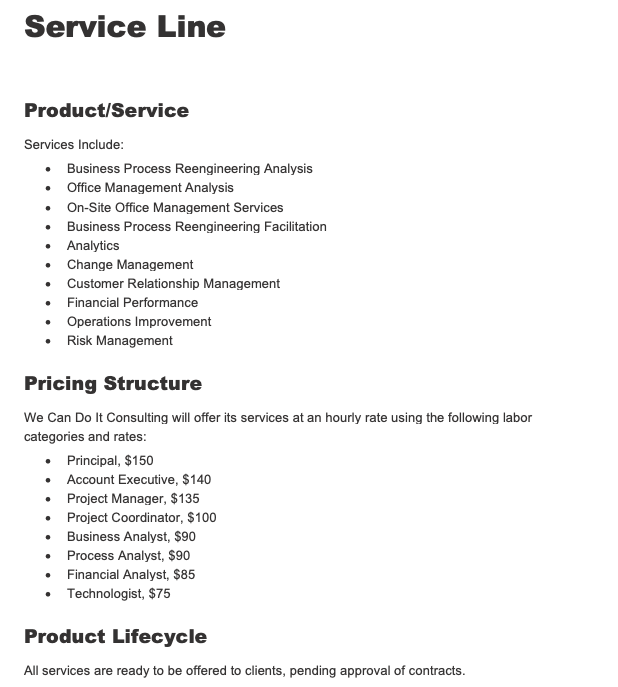 The operational planning section is pretty simple too. Since the business is a consulting firm, all product lines are services, with no assembly required. So there's no need to list manufacturing, shipping, or logistical needs or concerns. It's just a description of services with pricing.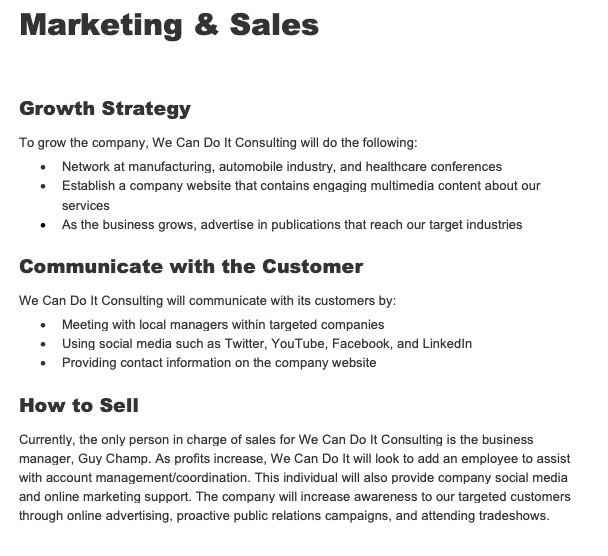 Since this is a small, service-based business, the marketing and sales plan is quite simple. It lays out a simple strategy for growth as well as some marketing channels the company plans to use and the person in charge of most of the selling.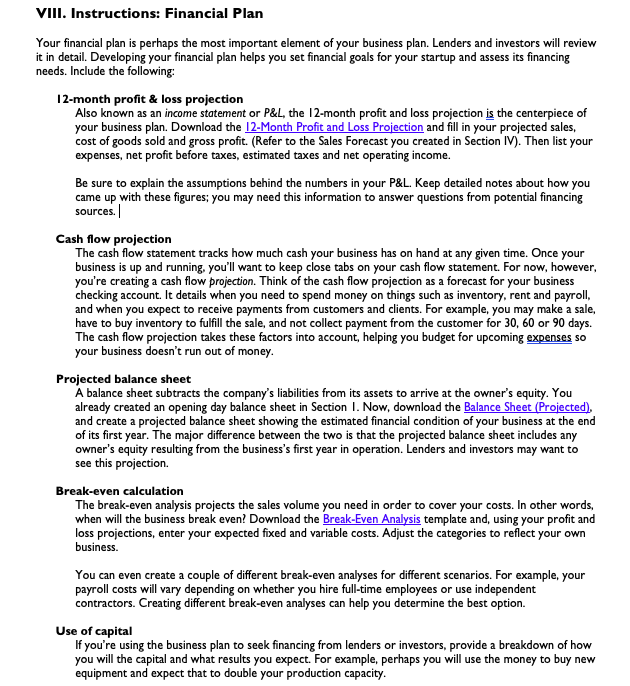 Sources:
https://www.businessnewsdaily.com/5680-simple-business-plan-templates.html
https://www.bdc.ca/en/articles-tools/start-buy-business/start-business/how-write-business-plan
https://www.fool.com/the-ascent/small-business/articles/small-business-plan/